The telecommunications industry is changing, and data analytics is at the center of the transformation. For Tier 1 and 2/3 connectivity services are becoming increasingly commoditized, Telcos are seeing a steady decline in their core revenues.
In recent years, data analytics have become a common direction for Telcos of all tiers to diversify. Until recently, access to data analytics was reserved for Tier 1 providers. Tech oriented offerings requiring costly/long integrations, difficult data collection tools, and the need for expert data scientists/analysts excluded smaller tier 2/3 from leveraging data analytics for their business.
Moreover, Tier 1 Telcos have dozens or more analysts that can collect and analyze data from siloes across a wide network. The data they collect provides them unprecedented business insights, optimizes service, increases ARPU, profiles homes and improves customer experience.
However, today data analytics are not the exclusive privilege of Tier 1 operators. Now, Tier 2/3 providers can benefit from Telco specific data analytics.
Veego Engage for Tier 2/3 Telcos
Veego Engage data analytics solution leverages AI to identify internet traffic classification, providing tier 2/3 network operators with unmatched visibility into their network. Using the Veego solution, tier 2/3 operators who have the right-data in the right-context, are empowered to make decisions based on proven intelligence to maximize ROI and ARPU.
Veego Engage is a SaaS platform that provides ISPs a clear understanding of the connected home quality of experience to support proactive initiatives that anticipate customer needs and optimize the providers' network. In simple terms it transforms sad (internet experience) homes into happy homes.
The Veego Engage solution is simple and easy to use, providing tier 2/3 operators incredible value and scale. The Veego solution reduces the need for multiple data analysts. Even junior analysts can quickly leverage the Veego system to deliver deep insights and attain significant value.
For example, a single data analyst at a tier 2/3 provider can utilize the Veego platform to investigate unusual events in reactive manner and enhance the prioritization and identify suffering homes. The same analyst can use the same system to proactively pinpoint bottlenecks that are impacting the quality of streaming experience, a gaming session and generate a personalized interaction with customers.
The Veego solution empowers a small number of data analysts to appear as an army of specialists. It provides a single analyst Rubik's cube type of visibility and insights and leverages multiple use case scenarios: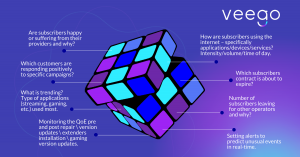 How Veego does it
Veego's secret sauce is a weave of App ID and QoE (collectively – App Intelligence) score to generate a contextual based – quality of experience score. Together with Veego's automated root cause analysis, recommendation, and remediation capabilities, a regular Tier 2/3 provider can punch way above its weight. The Veego solution is all about contextuality. Veego believes no two homes are alike and that their home connectivity activity defines their unique behavior. By using AI Veego strives to understand the user's behavior and intent, allowing it to generate unmatched insights about subscriber usage, satisfaction, and potential issues.
In a world where Telcos are transforming and adapting to new opportunities, Tier 2/3 providers can rise to the big leagues by implementing data analytics to improve their customers' quality of experience. And Veego is the ideal solution to do so.